At PJ's Express, our primary business is safely storing and delivering kitchen cabinets. Our staff is knowledgeable, courteous and will assist you with any questions you may have. During our hours of operation, you will always be able to reach someone who can help you. Our voicemail system is only turned on during lunch and other non-working hours.
Our warehouse is open for receiving 5 days a week with an experienced staff that will receive your inventory and carefully stage the cabinets to eliminate any risk of damage. We handle everything from stock grade to high-end custom cabinetry. Blanket wrap service is our specialty and every cabinet received is handled with the utmost care that it deserves.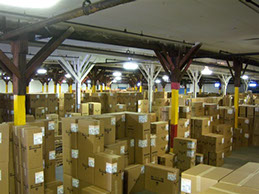 We understand that delays are part of the construction process. That's why 45 days of FREE storage is included with every order.
We will arrange and coordinate all delivery and C.O.D. transactions with your customers. Our uniformed delivery teams provide superior service with that extra touch of personal attention. Equipped with up to date technology including cell phones and GPS tracking, we can insure accurate and on time delivery of your shipments. Need 24 hour turn around? No problem. We will always do our best to accommodate your deadlines.