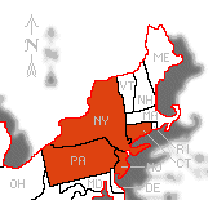 PJ's Express provides logistic services throughout New Jersey, Southeastern New York, Southwestern Connecticut and Eastern Pennsylvania. And since the beginning, Manhattan and Phildelphia deliveries are two of our specialties!
One of our goals at PJ's Express is to make The Process of receiving and delivering your cabinets as safe, simple, and convenient as possible. Below is our 6-Step Model that covers from start to finish this valuable progression.
Incoming Merchandise:

A manufacturer or logistics company schedules an incoming delivery to PJ's Express warehouse. It is preferred that 24 hour notice is given to us, as trucks are scheduled to be unloaded on a first come, first serve basis between the hours of 8 to 12 and 1 to 3:30 Monday thru Friday.

Receiving:

Upon receiving your cabinetry, each box is carefully inspected, checked-in to our warehouse, and safely stored until the requested delivery of the merchandise. If a damage is noted during receiving, it will be documented on the packing slip and a photo will be taken. The packing slip, showing the received items, is then forwarded to the dealer.

Warehousing:

All orders receive 45 days of free storage.

Delivery Set-Up:

One of our main goals is to make the delivery process as easy and stress-free for our customers as possible. This is why we have a simple, easy-to-use shipment request form right here at www.pjsexpress.com. When a request is received, an email confirmation will be returned to the provided email address. The traditional fax method of a delivery request is also gladly accepted.

Delivery Confirmation:

Once delivery is confirmed, PJ's Express will happily call your customer to firm up a delivery window. IF a C.O.D. is to be picked up by the PJ's Express driver, that will also be confirmed with the customer. When ready, the cabinetry is loaded on to a PJ's Express vehicle at which point the order is once again reviewed for completeness.

The Delivery:

Our experienced, well-prepared drivers will call the customer prior to delivery, if previously requested, and arrive ready to make the end customer's cabinet dreams come true. The cabinetry will be checked a third and final time while being unloaded from the delivery vehicle and will then be brought into the requested area. When complete, a signature will be obtained from the customer. Any C.O.D. will be picked up and mailed by PJ's to your company, unless prior arrangements have been made.
Our goal is to provide you with the best service possible!